We can customize any moon lamp to almost any color of your choice, including a slow, soothing transition from color to color! You can easily use the brightness and switch off the remote control by setting all 16 colors! Our moon lamp is the perfect gift for children and adults. Transform your loved one's bedroom into a surrounding planetarium with this charming and soothing piece of art.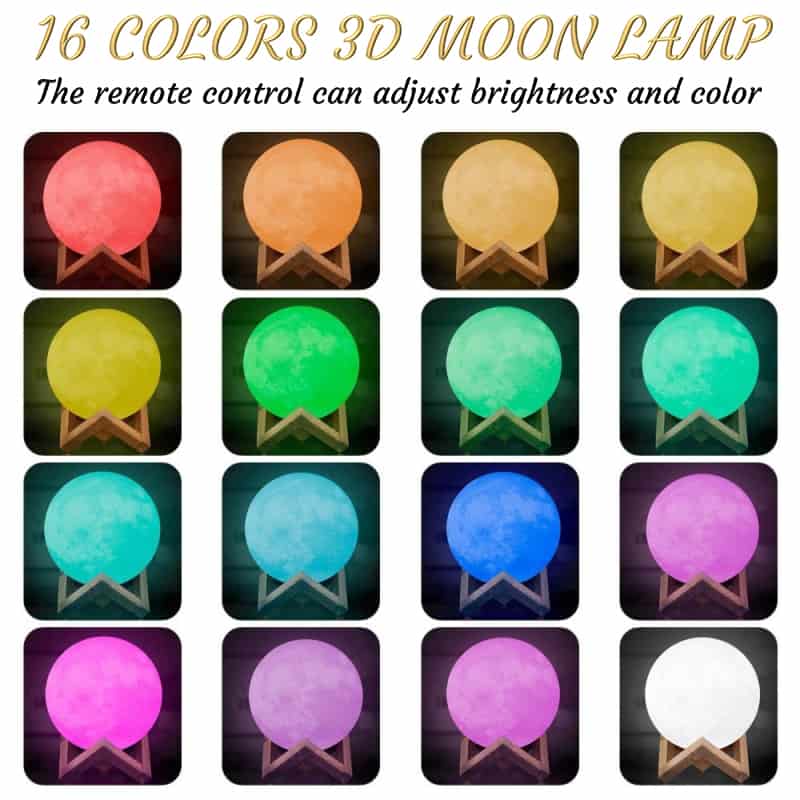 Product Details:
We have designed the Earth lamp using innovative 3D printing technology to faithfully portray the Earth's surface when you light up in the dark, you feel the real Earth.

Creative decorative lighting for bedrooms, living rooms, dining rooms, offices, student dorms and create a wonderful atmosphere that exceeds your expectations.

A beautiful and elegant piece of art to keep the moonlight calm. Perfect interior decoration, Valentine's Day gift, and best birthday gift and help your child learn science. The

earth night light

has a warm and soft light that does not hurt the eyes, promotes sleep or creates a romantic mood for adults.

Made using 3D printing technology, layer by layer printing, vibrant surface presentation. The brilliant 3D moonlight brings you mysteries and romance, ideal for bedrooms, living rooms, courtyards, dining rooms, offices, parties, cafes and home decorations. Perfect gift for your loved ones, babies, children and friends.

1 x moon light, 1 x USB charging cable, 1x wooden stand, 1 x hanging cord, 1 x English user manual, our carefree 18-month guarantee and friendly customer service.
Buying
We test everything. We can ensure that the material used is 100% safe and non-toxic. The light from the LED is energy-saving and therefore generates very little heat. This means that even the smallest and most curious children can enjoy and handle our moon lamp.
Package Contains:
1x Wireless 3D Moon Lamp
1x Wood Base
1x Instruction Manual
1x Micro USB Charging Cable
Specific Uses General purpose
Fixture Features Auto on/off, back-up-battery, light
Shade Material PLA
Diameter of Lampshade 13 centimetres
Light Direction Adjustable
Power and Plug: battery-powered
Batteries included? No
Batteries Required? No
Specifications
Material: edible grade degradable PLA
Battey Capacity:1200mAh
Charging Time: 2 hours
Charging type: USB
Size: 13cm Diameter
Rated voltage: 110v-220v
USB cable length: 120cm
Battery: built in battery
Working Time: 8-20 hours (depends on brightness)
Body Color: ivory white
Bulb: LED
Wattage: 0.3W
Voltage: DC 5V
take me to moon lamps!