Magic moon lamp "Love you the moon and back" features love phrases, photo engraving on an elegant 3D moon night lamp. Raise the moon and raise the heart of your loved ones!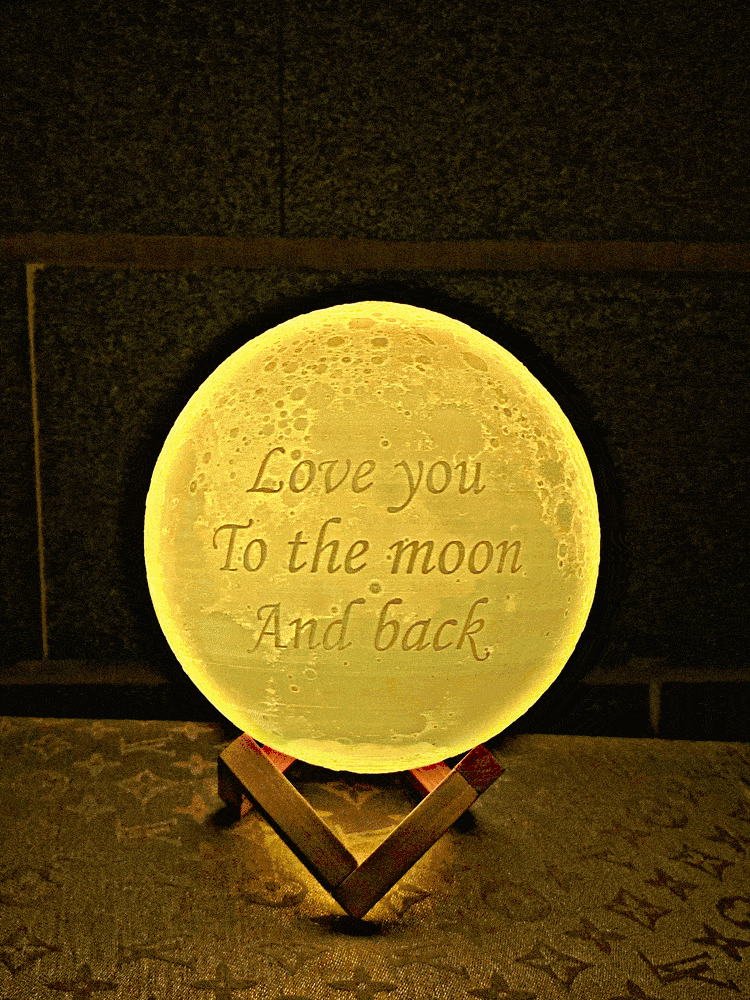 We have subjected every single moon lamp to a more than 28-hour 3D printing process using the latest technology. As a result, the design corresponds to NASA's satellite images, so that the actual surface and the craters of the moons are accurately reproduced.
Let yourself be fascinated by the enchanting beauty of the moon – in your room! Get to know the charming 3D moon lamp. Created with 3D technology, you can now realistically experience the extraordinary light and mystery of the moon, right where you are.
The lithium-ion battery has an output of 0-5 W, is rechargeable and USB compatible (cable without adapter), so you can enjoy the eternal light of the moon to your heart's content. Just as the moon changes, this night light has LED light bulbs that project white and yellow light and can adjust your mood at the push of a button.
While the night light dreams in space, it provides odorless, non-toxic and environmentally friendly Mother Earth. The perfect gift for family and friends of all ages Share this unique gift with loved ones and enjoy the experience together.
3D TECHNOLOGY: This lamp is made using innovative 3D printing technology, stacked layer by layer to restore the true appearance of the moon.
BRILLIANT DESIGN: Rechargeable battery and USB charging (cable without adapter included); Bringing you puzzles and romance, this night light is exactly what you need for an extraordinary lighting experience.
PERFECT NIGHT LIGHT: As with white and yellow light colors, you can change the degree of freedom with the touch button-down, making any room feel comfortable.
Choose from different sizes above.
Light Source: LED Bulbs
Working Time 8-12 hours
Wattage: 0-5W
100% eco-friendly PLA from the USA
Two Color Tones
Battery Type: Lithium Ion
Charging Time 2 hours
Contents:
1x Wooden Base
1x Instruction Manual
1x Micro USB Charging Cable
Customized 3D Enchanting Moon Lamp
Step 1: Input the text, signs… at the "Engraved Test" field above.
Step 1: Upload the photo you want to engrave on the 3D moon surface at the upload button above ( You also skip this step ).
Step 2: Click to ADD TO CART button.
take me to moon lamps!