High-end Custom Moon Lamp with Picture/ Text: The magical personal moonlight "Love you to the moon and back" contains love words, photos that are engraved in an elegant 3D moonlight to show appreciation, to celebrate an important life event, to show your love for family members or even a memorial for lost loved ones. Make it more special for everyone you care about.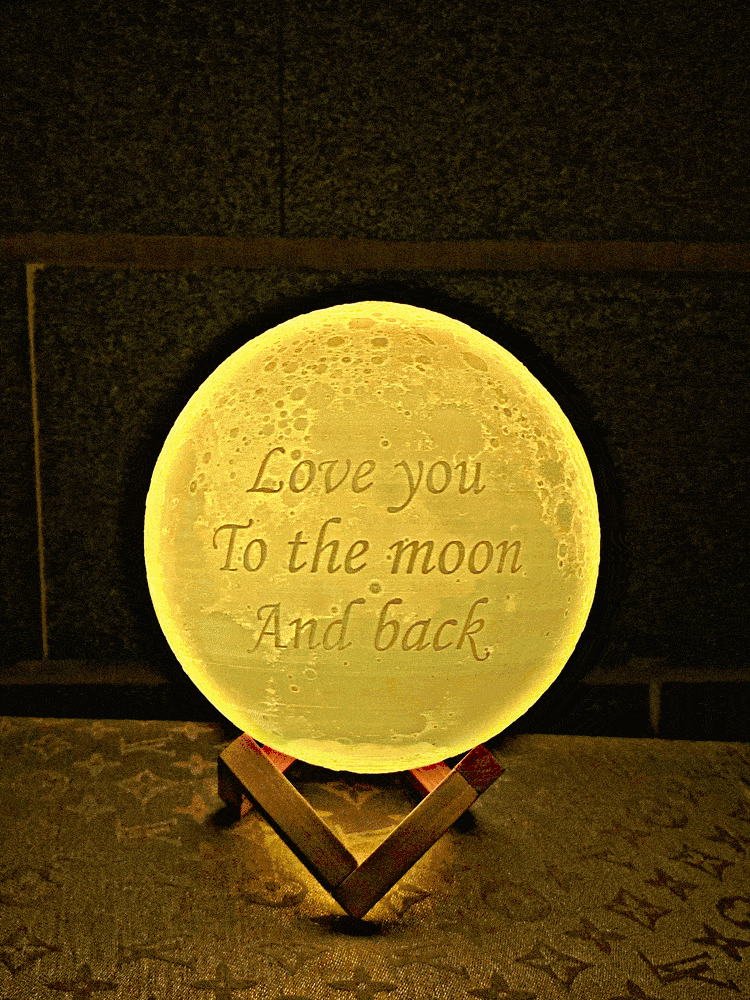 If You Can Dream It, We Can Build It!
Unique design with your own photo, names, and wordings depicted in the moon
Original Patented Design
Ultra high-quality texture
| | |
| --- | --- |
| Support | Contents |
| 1 | Picture (Photo) |
| 2 | Text (Words) |
| 3 | Emojis |
| 4 | Logo |
| 5 | LogoPattern |
The image you choose definitely affects the result! Some tips for information:
Best is a high-pixel and high-contrast photo that shows the full hairstyle.
Headshot and bust shoot are preferred for customization. If you upload a full-length image, we can cut it to half length for the best result.
DO NOT use the background lighting photo.
We recommend 5.9 inches or more if you want to print a photo on the moonlight.
If you want to print a photo of 4 or more people (family photo), we recommend a> 7.1 inch lamp.
We will process your image on the lamp or text layout as good as possible without prior notice.
Standard background with background, contact us if you have questions / special requests after placing the order.
We strive to create a perfect moonlight for you. So we will contact you to change the image or text if it is not suitable for customization.
How to use Moon Lamp in a Sentence?
He stepped into the Moon Lamp and looked at don when he heard her throw out more desperate words.
A moment later, the strange hiss repeated, and then you saw a small black object glinting in the Moon Lamp a few meters from the bank.
The torch of fire and the bright Moon Lamp illuminate the room as brightly as the day
A moment later the strange hissing repeats itself, and then you see a small black object in the moonlight a few meters from the shore
Sharp and Moon Lamp teeth gleam, only overshadowed by the ruby-like glitter of her eyes.
She sat in the moonlight late the night before and told her grandmother about it.
It was a very nice night; there was a flood of moonlight on land and sea.
Product description
Material: Shell is 3D-printed by 3D printer with PLA (Polylactic acid)
Switch type: touch-sensitive
Charging Port type: USB to mini-port, DC 5V/1A
A LED control module is integrated support White /Yellow light
Battery Capacity: 500mAh; Charging 2-3 Hours, Working Time: 3-5 hours
Stand: Moon lamps packing with
Packing: Personalized Lamp *1, USB charge cable *1, Stand *1, Giftcard *1, Manual *1
take me to moon lamps!