It is much easier to recognize if you have the moon lamp as a wing. With a custom lamp from the Magic Lunar, you can illuminate your love and other beautiful memories for a long time. There is no better way to burn the fire of love!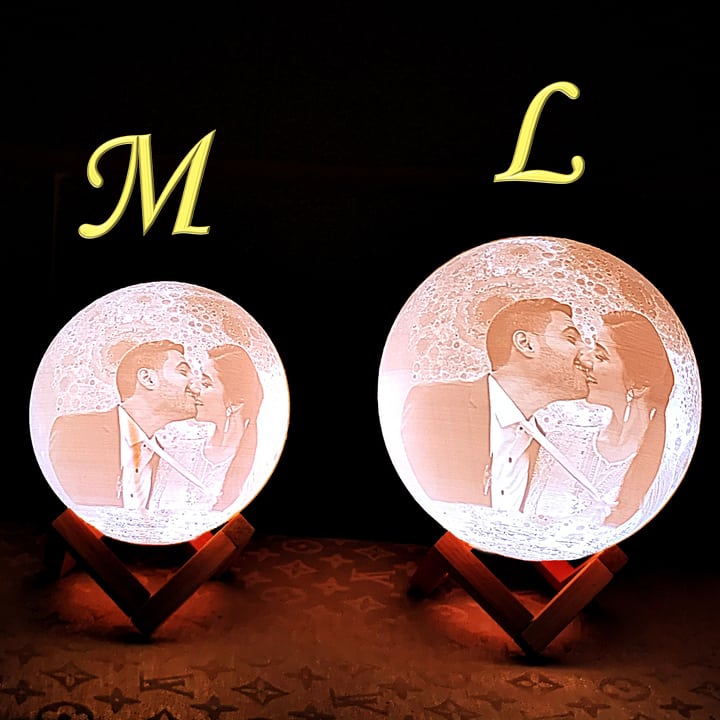 To get things done, just send us a picture or the kind words you want to print on the surface of the lamp, and our experienced designers will display it. Lunar breast lamps from Magic Lunar offer the utmost attention to detail, solid design and the finest electric fittings.
With customized moon lamp, you have the perfect Christmas present for all your friends and family. And it will definitely make her scream with excitement when you receive the Virgo moon lamp as one of her birthday presents!
High-end Custom Moon Lamp with Picture/ Text [ Over 10000+ Clients Served!
Magical Private Moon Love the Moon and Back "Love words, photos engraved in elegant 3D moon lamp to be appreciated, celebrated at an important life event, create your love for family, or even a memorial to a loved one. Make it more special for everyone you care about.
If you dream about it, we can build it!
Unique design with your own photo, names, and wordings etched in the moon
Original Patented Design
Ultra high-quality texture
| | |
| --- | --- |
| Support | Contents |
| #1 | Picture (Photo) |
| #2 | Text (Words) |
| #3 | Emojis |
| #4 | Logo |
| #5 | Pattern |
The image you selected really affects the result! Some tips for information:
Best is a photo that has pixels and high contrast showing full hair.
Headshot and bust shooting should be personalized. If you upload a full-length image, we can cut it in half for best results.
Do not use traffic light photos.
We recommend 5.9 inches or more if you want to print a photo in the moonlight.
If you want to print photos of 4 or more people (family photo), we recommend >> a 7.1 inch lamp
PERFECT NIGHTLIGHT – 16 light colors come with 16-color RGB remote control. The brightness level setting varies from weak to light. You can adjust your desired color or brightness by simply pressing the Smart Touch Ring in each room.
Good Gift – Made from non-toxic, odorless and environmentally friendly PLDM material, this lamp (food safe) is a perfect gift for girls, boys, kids, loved ones or lovers.
Choose from different sizes above.
Light Source: LED Bulbs
Working Time 8-12 hours
Wattage: 0-5W
100% eco-friendly PLA from the USA
16 Colors Tones
Battery Type: Lithium Ion
Charging Time 2 hours
take me to moon lamps!