This Personalized moon lamp has up to 16 types of colors and is equipped with a special remote control that can select the color and control the brightness of the light. We give the moon light gradient functions of different colors and have a 15 minute, 30 minute, 60 minute time function; you will be more comfortable and comfortable.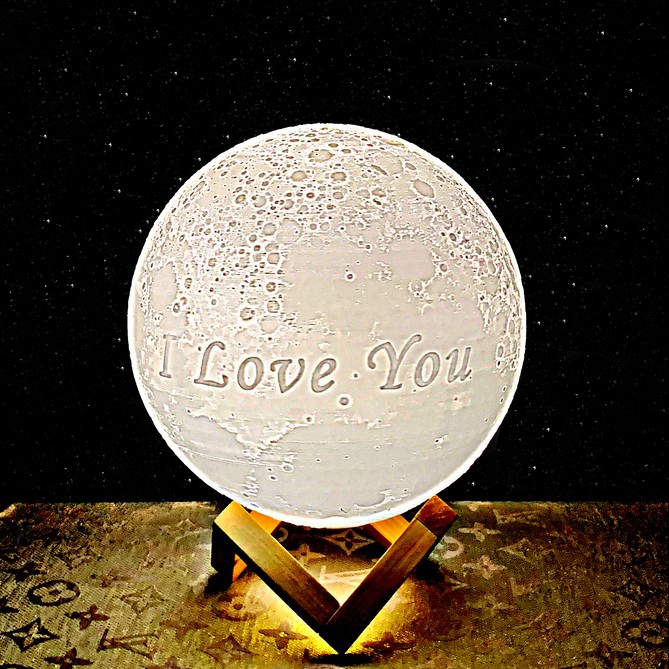 About the personalized moon lamp
Magic moon lamp "I Love You" contains words of love, pictures in elegant 3D moon lamp. Raise the moon and illuminate your loved one's heart!
Each individual moon has undergone a rigorous 28+ hour 3D printing process using the latest technology. We draw satellite images of Nasa to accurately represent the actual surface of the moon and the craters.
Get ready for the fascinating beauty of the amazing moon – in your room! Meet the fascinating 3D moon. Designed with 3D technology, you can now realistically experience the light of the world and the mysteries of the moon wherever you are.
The lithium-ion battery emits from 0 to 5 W, is rechargeable and USB compatible (cable without adapter included), so you can enjoy the eternal light of the moon to your heart's content. When the moon changes, these nocturnal LED lamps, which emit white and yellow light, can be placed at the push of a button.
In the dream world from outside, night light takes care of the earth – odorless, non-toxic and environmentally friendly. A perfect gift for family and friends of all ages Share this unique gift with loved ones and enjoy the experience together.
We manufacture 3D Technology using innovative 3D printing technology and layer-by-layer to restore the true appearance of the moon.
BRILLIANT DESIGN – Battery and USB charging (cable included without adapter); It will bring you puzzles and romance, this night light is exactly what you need for an extraordinary lighting experience.
PERFECT NIGHT LIGHT – White and yellow light color, you can switch freedom with the click of a button and shine comfortably in any room.
Light Source: LED Bulbs
Power: 0.1W to 1.5W
Power source: USB DC5V
Battery: 250mAH
Diameter: 15CM
Light color: White and Yellow/16Ccolors
Control way: Touching
Work time: 4-12hours(Depend on the brightness)
Charging Time: about 3 hours
100% eco-friendly PLA from the USA
Two Color Tones
How to customized 3D Enchanting Moon Lamp?
Step 1: Input the text, characters… at the "Note" field above.
Step 2: Upload the photo you want to engrave on the 3D moon surface at the upload button above (You can also skip this step).
Step 3: Click to ADD TO CART button.
take me to moon lamps!